The Barwon Heads Triathlon is one of my favourite events on the annual calendar – not only because the start line is within a 5 minute ride of my home, but also because it is a fun, local, community event that is accessible for any ability or age group. Whether it's your first attempt at a triathlon or you are a seasoned racer, Ive popped together my top tips for race day to help you fly through your swim/bike/run and onto the fourth leg – party!
Race Week:
By the time race week rolls around you have most likely put many hours into preparing your body for the event – if not, don't waste the last week trying to make up for lost time or you will be exhausted by Sunday!

This week is all about preparation: ensure your race gear is all newish but worn for training –

NEVER

use race day as a first for any new items from shoes to race suit!

Service/clean your bike

: a clean bike can mean the difference between a hard slog on the bike leg and a pleasant roll up 13th Beach Road.If you have been slack on your maintenance, check your bike in for a service this week to avoid any race day mishaps

Catch up on sleep and fuel well

: preparation doesn't start the night before, infact by then it's usually too late to fuel and hydrate. Make sure you carry a water bottle with you this week and keep hydrated, and ensure the last 24 hours before race day is full of simple foods that won't have you feeling sick come Sunday morning.
Race Day
The morning rolls around and you will be no doubt full of nerves and excitement. I always set out my gear the night before so I know I'm not missing anything in the morning as Im likely to be too nervous to think straight. I find it helpful to separate into the 3 legs and lay out the gear needed for each one. Then visualise your race and see if you have missed anything.

If you need to eat before the event, make sure you are finished 2 hours before start time (check wave starts) so you have time to digest.

Get to the site early:

there will be a lot of traffic coming into Barwon Heads so plan your route and where you are going to park before you leave home. Allow extra time incase you can't find a park close enough. This way you will have one less thing to stress about in the morning

Check in early

: Bike racking occurs Sunday morning: ensure you arrive in due time to check in and pick up your race kit, and rack your bike in transition. If you haven't raced before you will need to leave your run gear and your bike gear in transition. You can take your swim gear with you when you leave transition.

Familiarise yourself with the transition area

: It seems simple but often forgotten by newcomers:

REMEMBER where you rack your bike! Take time to check out your surroundings in morning transition: take note of the rack number, and a landmark you can run to when exiting the water eg a tree, a signpost etc. DON'T use another competitors bike or gear as a guide as they may be out of the water before you!!!

Get to the start line in time

to watch the swimmers in waves before you: this is helpful for picking up tide strength and speed and will help you to chose your spot on the start line before you set off for the swim leg. Look around for any obstacles in the swim entry and exit so you can avoid any injuries during this leg.
Swim Leg – 400m: This is usually the most feared leg in a triathlon but the Barwon Heads Triathlon has this sorted – The swim leg is with the tide and for anyone who hasn't swum or stood in the river mouth, you can almost lie and float the swim leg on a lilo!
The swim leg is a beach start where you will wade/run into the water

and

turn left

at a

buoy then swim parallel with the shore-line, never more than 20m or so from the shoreline.

If you are not a confident swimmer I would recommend staying wide to the left when on the start line as you will stay out of the way of others and not over shoot the buoy.

At the last buoy you will

turn left

and swim towards the shore. Swim as close to shore as you can before standing up – as a guide your fingertips should touch the sand before you stand up!

There is a short run up the sand to transition – you will feel out of breath so take your time if you need here, dump your goggles and swim cap in transition with your gear before you head on out on the bike leg.
Bike Leg – 14km: the bike leg is an out and back course along 13th Beach Road with the turn around point at the Blackrock Road end. Always remember your road rules: stick to the left unless passing, and identify to the rider in front if you are passing. This way we can have a chaos free bike leg!
Housekeeping first:

YOU

MUST

DO YOUR HELMET UP BEFORE YOU TOUCH YOUR BIKE: sounds silly, but it's the rules! When you get in from the swim, find your bike, dump your goggles and cap, put your helmet on and do it up before anything else!

Next grab your shoes (if you are not clipped in already to your bike) – usually having your bike shoes clipped into the cleats will make your transition time faster, but for Barwon Heads Triathlon I keep my shoes off the bike due to the nature of the 1st 200m of the bike leg: once you cross the mount line you will have

less than 200m

before you start going up hill. Given that the start can be congested enough, I run out of transition in my shoes so I can get on the bike quickly and start pushing up the hill without fiddling around and losing time.

Road Surface:

The surface of 13th Beach Road can be quite rough especially in the back half of the road out to the turn around point. For this reason pumping tyres to 110 or 120 psi may be counter productive as you will be bouncing all over the place. For this reason, I recommend capping at

100 psi

and ensuring all items are secured on your bike so nothing goes flying out of a bottle cage as a danger to other athletes

Wind:

13th Beach Road can get pretty windy so beware before you start the bike leg. The current forecast for Sunday is north-westerly winds which means it will be a cross head wind out and cross tail wind back. Be mindful of the cross wind element – despite 13th Beach Road being protected by the houses and dunes, there are some patches where the road opens up and you can be caught off guard by cross winds. Lastly, ride to your capacity: don't try to beat the wind on the way out or you will struggle on the run leg

Slow Down into Transition:

The last 300m is all

downhill and with a tailwind

you will fly through to the dismount line. Don't get too carried away or you will over shoot the line (it's happened many times!!) Remember you must dismount within the specified area to be legal.
Run Leg: 4.4km: The run leg this year is slightly modified due to the presence of protected hooded plovers on the sand, so this year you WILL NOT have to run on the sand at all.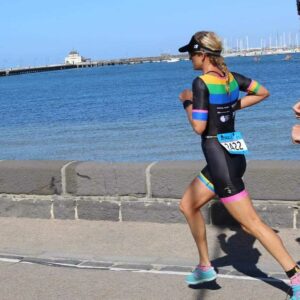 Once you dismount, head into transition and rack your bike by the hoods to save time. Helmet off, shoes off, runners on, hat on and off you go (fast transition is not panic, it's calm and controlled!)

The run leg heads out of transition and zig zags to turn right onto the bridge. For the run leg

you must stay to the RIGHT

at all times

.

At the Ocean Grove side of the bridge there can be a section of sand that needs to be watched before you hit the path where you will continue out to the 2.2km turn around point.

Drink Stations:

there are multiple drink stations along the run leg – if you are taking a drink stay to the left side of your lane (eg close to the centre of the path) so runners can get through.

Wind:

As forecast it will be a tail wind out and a headwind home so monitor your pace to allow for the extra push home. At the turn around you have 2.2km to go

Finish Line:

Once back on the footbridge it's

only 300m

to go in front of the cheering crowd to the finish line, which is located in the car-park opposite the Barwon Heads Hotel.
After the Race: No comes the fun part – you have worked hard to get yourself fit to race and now you can reap the rewards!
Recovery

: The best thing about the location is you are on the water so can jump straight back into the river for a recovery leg soak, or visit the massage team on site for a post race rubdown

Bike Collection:

Bikes cannot be collected until the last person of the final wave is out on the run leg. This is usually around 10.15am

Presentations:

stick around and support the locals for the presentation at 10.45am. Even if you don't think you are a podium winner, pop down to the carpark and show your support for those who raced and topped their age groups

Party:

Any event needs a good after party and this year the Barwon Heads hotel is the place to be to quench your thirst (after you have showered and eaten of course!)
Feel like you have the bug now? If you have any questions about racing or preparing for your next event, come in and see me and discuss how we can work together to help you achieve your next goals!