There's usually a big change in the weekly routine during summer; your children get time off school or daycare, you might get time off work or your gym schedule changes due to public holidays and they change their group class timetable. All of this combined with the change in weather, it often gets difficult to find time and motivation to exercise.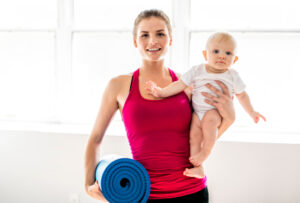 Let's be honest; it's easier to sit in an air-conditioned room watching the cricket all day, but with studies showing that physical activity declines during the summer months, contributing to weight gain and which may exacerbate other health conditions, it's important that we keep exercise as part of our regular routine. We all know that exercise is more fun when it's done with somebody else, so here is a list of activities that you can do with your child to ensure that you both stay active during this time.
My top 5 tips to keep active with your kids this summer:
Go to the park or oval. The local park offers a variety of ways that you can run around with your child, whether it's climbing obstacles or using the monkey bars. You're never too old to have fun at the park! Alternatively, you can find an oval where you can kick a ball around or a court to play basketball.
Get outdoors when the weather has cooled down. The weather is typically cooler in the morning or evening and this is a perfect time to go for a walk or bike ride with the whole family. Around the Bellarine and Surf Coast, there are plenty of beautiful walking or hiking
tracks that you can explore!
Go to the beach! Nothing beats heading to the beach to go swimming or surfing to cool down in the heat. These are both great forms of exercise and you don't realise that you're working up a sweat if you're in the water! If you get there early before the sand is too hot you can also play a game of cricket or throw a ball around too.
Too hot to go outside? There are exercises that you can do indoors in the comfort of your own air conditioning! Try doing some dancing, there are plenty of YouTube videos with fun videos that you can learn the choreography to. While you're on YouTube there is also a large range of yoga or Pilates videos that you can follow if you're looking to do something with more of a strengthening focus. You could always set up a fun circuit program at home; think jumping jacks, hula hooping, skipping, squats and push-ups.
Check out the facilities at your local community or leisure centre. There may be times when you can use the local pool to have some fun with the children or swim some laps. There also may be a set of summer activities being run like basketball or indoor soccer that you can all join in on.
It is recommended that you participate in 30-60 minutes of physical activity in each day, however, this doesn't all have to be in one burst of exercise. During the holidays it may be easiest to break down your 60 minutes into 3×20 minute bouts to ensure that you still reach physical activity recommendations and still keep cool throughout the day. Whatever you're doing, remember to keep sun safe and drink plenty of water throughout the day as hydration is especially important in hot weather and when you're sweating. For more exercise tips or if you're after a specific program, email me at [email protected] or call the centre on 5251 5724.